Have you been? Will you be? Are you just? I have been an empty nester since 2005 and again in 2012. I count the six months my oldest and his wife lived with us, because we had them in the house, living, breathing, moving people, other than my husband and myself.
It was strange to change my routine when they were here, and then to redo it all again when they left. I must admit when they were here we lived a more structured life. Breakfast, lunch, dinner all served and scheduled, but I believe it is something we must do in order to survive with a group in the home.
When it is just hubby and I we don't have a set schedule. Sometimes he isn't hungry when he gets home and other times he is starving. He calls me every day when he leaves work and this is how I gauge when we are going to eat. I don't mind waiting for him to be hungry before we eat. There are also days we call growl and grab, when our stomachs get growly we grab something from the fridge and eat, not necessarily at the same time. However, one rule – we always sit together, even if one person isn't eating.
One routine we had when the boys were little still remains today. Matter-of-fact my eldest (who lives in southern Ca., with his own little family) commented on it one day. He said it always stuck with him and now he tries it with Jill. Whenever we would get home, whether it would be me from school (I was a nontraditional college student) or work, no matter how busy we were between baseball games, or soccer, or whatever it was, we would always sit down with a cup of coffee and discuss our day. Husband and I, just the two of us, boys welcomed to join if they wanted to. However, saying that, the boys had their time at the dinner table also. We always sat together for meals.
Yes, we are a talking family, no matter what, we talk about things, talk it out, discuss. My oldest and I could sit together in the evening, usually his younger brother was in bed and hubby could be bowling or he did service calls in the evening, and older and I would talk forever. He had the gift of gab and we talked about everything, for hours at a time. I think this is the hardest part about being an empty-nester, there is no one around to talk to during the morning, the day, or the afternoon.
Now that I have come back to Jesus, I spend my day talking with him. I gather talking was important to Jesus because there are so many scriptures where He has healed mute people to be able to talk again. In Matthew alone there are these:
Matthew 9:32-33
Matthew 12:22
Matthew 15:31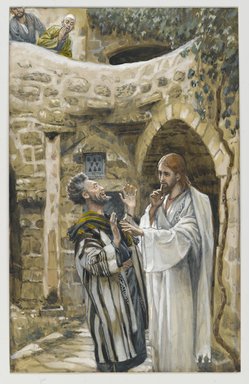 Jesus heals a mute possessed man
Brooklyn Museum
James Tissout, French 1836-1902
Do you spend your day talking with Jesus? How important is this in your life?
Hugs!!!
Namaste!!!
P.S. If you are having trouble commenting by clicking the number here below (on the bottom right). Please let me know through the community link.